NEW! Michel Mercier brushes
Hello Beautiful Beings!
I don't know if you had this opportunity to heard about the new, exceptional brushes by Michel Mercier?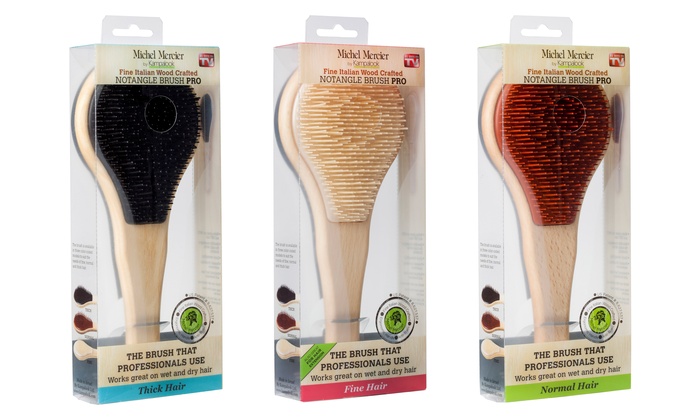 'What's so exceptional about them?' – you would ask. Well, there are many exceptional things about the brushes, my dear Ladies. I'll do my best to describe you the tools.
Michel Mercier brushes are exceptional because they are available in 3 versions: for thick, normal, and thin hair. All the brushes are made of wood (handles) and rubber (bristle). Each of them has a different colour.
Despite the colour, the brushes differ in the bristle. Each item has its own unique, patented, geometric and though-out arrangement of 428 bristle ends. These, in turn, are of various lengths. For example, the brush for thin hair features bristles of 32 different lengths, additionally the brushes have 16 various diameters of the bristle). Treating hair with the brushes helps with combing and taking care of every hair type. What's interesting, during brushing, the bristle alters its arrangement depending on the pressure we put into the combing.
The effect?
Not only does the brush fast, easily, without pain and tangling separate the hair but also it smooths and disciplines the strands. Michel Mercier brushes are said to be the outcome of many years of researches. They reduce hair brittleness and massage the scalp. Thanks to this, you can notice accelerated hair growth. This goes with hair becoming healthy and strong.
Michel Mercier brush for thin hair is of écru colour. Its bristle is elastic and soft. Thanks to this, hair and scalp are treated really delicately.
Michel Mercier brush for normal hair is coloured brown. The bristle is elastic yet a little bit stiff, as well – ideal for normal hair.
Michel Mercier brush for thick hair is black. The bristle is rather stiff and finished with a round ends. These are responsible for giving massage to the scalp and separating hair without pulling it out.
My hair is thin and I'm really in love with the écru brush. I have to admit that I can feel the difference while combing my hair. I recommend the brushes to all hair-maniacs.