Permanent eyelashes. How to obtain such an effect without a mascara?
Do you want to captivate with your appearance but do not know how to give your eyes the right look. Many women often struggle with this problem. The daily application of mascara does not give satisfactory results and takes a lot of time each morning. A much better way is to permanently cover-up your eyelashes. What method would be best for a long-lasting effect?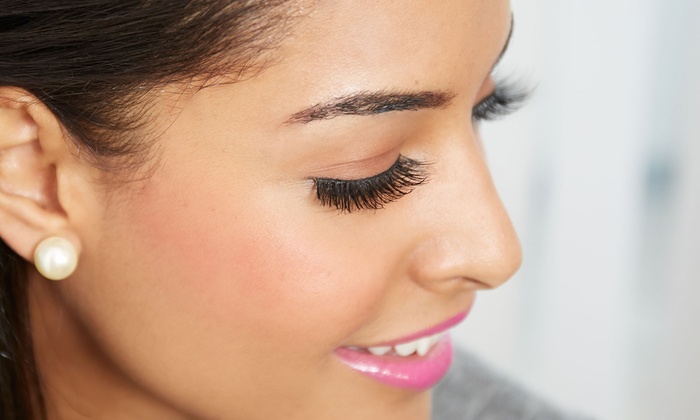 The dream of beautiful eyelashes does not have to remain beyond your capabilities. We live in a time when access to treatments and means of beauty is unlimited. Thus, if the nature did not endow us with beautiful eyelashes, take matters into your own hands. Thin and short eyelashes are not the final verdict. There are at least three ways to obtain permanent eyelashes and we present them in detail, below. Choose the perfect method for yourself. Find out whether it will be Nanolash eyelash and eyebrow serum – the cheapest and most effective way to enjoy naturally long eyelashes.
PERMANENT LASH EXTENSIONS
The most popular beautifying procedure is definitely having "permanent" eyelash extensions. The quotation marks are there not by accident. No method of eyelash extensions provides permanent effects. This is due to the life cycle of eyelashes, which die and fall out after a few weeks. Since natural eyelash falls out, so does the artificial one, which has been adhered to it. It is worth exploring this issue because many women who decide to get eyelash extensions are surprised that their permanent eyelashes look worse with time.
It is a well-known fact that permanent eyelashes are really impressive. This is why women often go for this procedure so willingly, attracted by the vision of immediate and stunning results. We do not claim that the extensions do not give such effects. After about two hours of attaching false eyelashes, we can enjoy the spectacular eye frame. Of course, only if the procedure is performed correctly, which is very difficult in the world of self-proclaimed beauticians. You have to look longer to find a trusted place and a skilled and qualified technician. What is more, take into account the costs that are really high if you want professional service of an experienced lash extension artist.
After the use of semi-permanent eyelash extensions:
Eyelashes are long and thick, but the effect lasts only a few weeks;
You have to go for a regular touch up of lost lashes;
Avoid contact with water (bath, swimming pool, washing the face) for a few days;
You have to give up oil-based cosmetics (mascara, liquid make-up remover);
Do not use an eyelash curler, because it can break both the natural and false eyelashes;
You should not touch, nibble and rub your eyes and eyelashes;
There may be skin irritation and sensitization due to the use of synthetic materials.
PERMANENT MASCARA
The method of using a permanent mascara to enhance the look of your eyelashes is definitely less popular. It does not give as spectacular effects as eyelash extensions, but maybe it is for the best. Especially for natural lashes, which significantly weaken under the weight of falsies. It is not easy to obtain permanent eyelashes with extensions and permanent mascara seems to be a lot easier. However, one should know that the permanent cover-up with mascara does not lengthen and thicken natural lashes. It only provides a darker colour and visually thickens.
The procedure is performed in a beauty salon with applicators and dye. Permanent eyelashes obtained in this way are often mistaken with applying false eyelashes. Not only the result differs but also the method of application. In semi-permanent cover-up with mascara, you only apply colour to your natural eyelashes without attaching any false eyelashes. On one hand, it is a good solution, but regular application of such tint may also weaken your lashes. What is more, the effect is maintained only for three weeks. However, it is waterproof and gives a natural effect of eyelashes coated with regular mascara.
After the use of permanent mascara:
Lashes are emphasised and tinted in natural looking manner;
People with thin eyelashes may be disappointed because enhancing the colour is not enough;
The effect lasts only three weeks and the procedure must be repeated;
Natural lashes weaken due to the use of dyes;
There may be irritation or allergic reaction to dye components;
You have to give up oil-based cosmetics (mascara, liquid make-up remover);
You should not touch, nibble and rub the eyes and eyelashes;
It is necessary to give up sauna, tanning bed and swimming pool.
EYELASH SERUM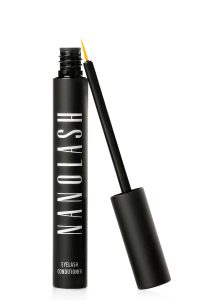 Eyelash serums are only now gaining popularity which is why not all women considered their use yet. Nevertheless, it is definitely worth analysing them a little bit more, to encourage more women to test this easy and natural method. In fact, the comparison of all methods proved that serum stimulating the growth of eyelashes and eyebrows is the best, most effective and (more importantly) the cheapest option. Nanolash eyelash and eyebrow serum is the winner of many rankings and on the basis of this example we will show the advantages of this solution.

The cost of regular use of eyelash serum is much lower than eyelash extensions or permanent mascara. The first procedure can be really pricey, especially if you choose a more time-consuming method and the best quality materials. For the second visit at the salon you will pay slightly less, but still a lot. It is worth mentioning that the effects of both treatments sustain for no longer than a month. One Nanolash eyelash and eyebrow serum costs less than a mascara and it is enough for half a year of use while the effects of longer and thicker lashes last much longer. To sum up, monthly cost of Nanolash treatment is very low.
Thanks to using using Nanolash eyelash and eyebrow serum the effects are to die for. In the case of eyelash extensions and permanent mascara, the results are immediate, but unfortunately they are far from natural. While applying eyelash conditioner, we make sure that we have natural influence on our lashes. Strengthened, nourished and regenerated eyelashes grow faster. What is more, within the first week of regular use of Nanolash serum, eyelashes become longer and thicker. No one will argue with the fact that naturalness will always be more beautiful and better than artificial beautifying.
Time-consuming – it is probably the biggest problem of eyelash treatments. For the application of false eyelashes or permanent mascara we have to devote at least 1-2 hours. Remember that a few more spare hours will be necessary later on for filling in any deficits that occur due to natural lash loss. What is more, if you do not like the effects, eyelash extensions must also be removed with the help of a beautician. In contrast – Nanolash eyelash and eyebrow serum works almost independently. Less than a minute each evening is required for the application. With the use of the thin applicator – it is a piece of a cake and the results are worth any price.
Safety is a big advantage of eyelash serums. They do not burden and do not damage your natural lashes the way falsies or dyes do. It is worth mentioning that Nanolash serum contains natural plant extracts, which provide strengthening and nourishing properties. In contrast, artificial dyes, synthetic adhesives and eyelashes of animal-derived materials have a tendency to sensitize and very often cause irritation. The risk is reduced if we focus on the care of natural eyelashes and not mask them with the artificial ones.
13 Comments "Permanent eyelashes. How to obtain such an effect without a mascara?"
Permnent mascara is a mistake. The effect is minimal and lasts briefly. My lashes looked a lot better after using a cheap mascara from a chain store

I think it's better to buy a high-quality mascara rather than get eyelash extensions

I'll never allow to be pursuated to get lash extensiosn but mainly because you have to be very careful. Probably half of them would fall out after the first day 😀

I apply cluster lashes to make the lashline look fuller and I've never used any serum, maybe it's time to try one out

I do not like the look of lash extensions because they are very unnatural

I agree with you. Therefore I stopped wearing eyelash extensions. I looked weird with falsies but the removal was the worst. There was nearly nothing left of my own lashes! Luckily, I came acoss this serum and the lashes regrew. For some important occasions I like to apply individuals or cluster lashes to make them look thicker but the serum made them fuller anyway

why use serums if you can apply a lengthening mascara?

I had eyelash extensions and never noticed that my lashes were weaker or damaged. As a matter of fact, I think it's a vey convenient solution

I don't believe in such tratments. It's only a waste of money. If you want to make your lashes longer then use serums only. It's the only and the safest way for your lashes.

In most cases, lash extensions do not look natural, usually, you can see the adhesive and often times, their length is riddiculous and the effect is comic

The allergic reaction I had on my eyelids when wearing lash extensions was unbearable.I removed them after a few days, I could never get used to them

thanks to nanolash my lashes got very long. That's why I prefer and recommend serums and not lash extensions

A lash serum is the safest method and turns out the cheapest out of all options. Too bad the effect do not appear as quickly as after the application of lash extensions in a beauty salon