Nivea Body Lotion Oil – Subjectively About the Product
Oils are the hottest beauty products now. Women use them for skin, nails, hair, makeup, makeup removal. What do you make of combining an oil and body balm for perfectly moisturised and smooth skin?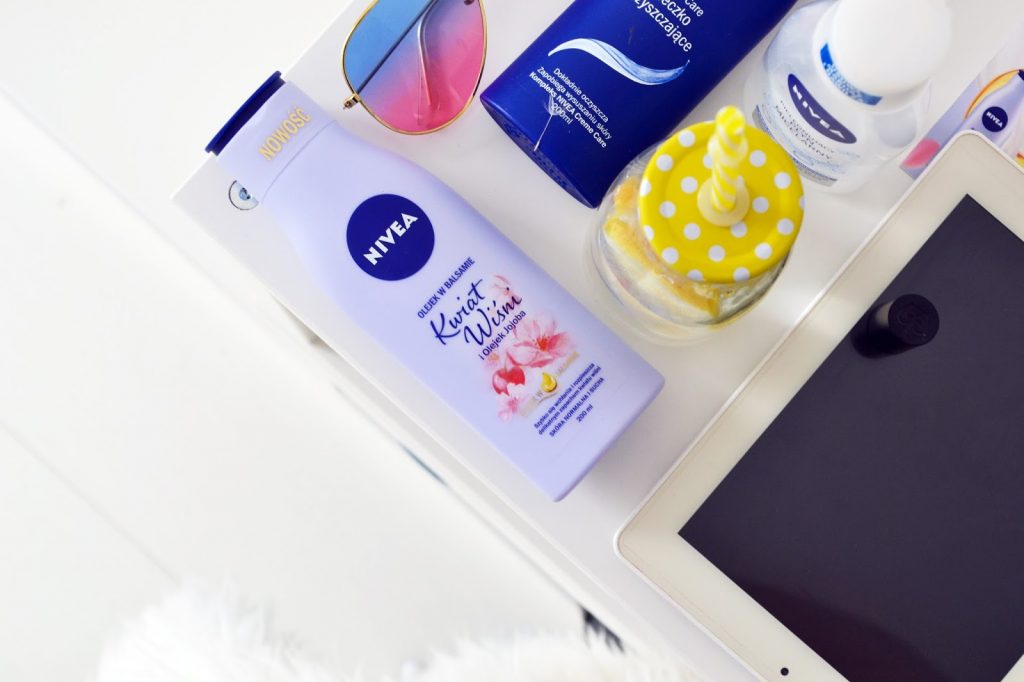 Both products play a key role in skincare so I think that mixing them is a great idea. A good body lotion absorbs immediately, delivers long-lasting effects and coats our skin with an essential protective layer. Natural oils make up the source of many valuable nutrients that penetrate the skin, ensuring moisture and repaired natural lipid barrier.
OILS IN NIVEA LOTIONS
Nivea is the first to combine both, which results in conditioning oils in form of lotions. The products are intended for dry and normal skincare. They deliver an intensive – 24-hour – hydration and smoothness. The lotions are lightweight, quickly-absorbed. They leave the skin beautifully perfumed yet not greasy.
Nivea Body Lotion Oil is available in four versions:
Nivea Cocoa & Macadamia Oil,
Nivea Vanilla & Almond Oil,
Nivea Cherry Blossom & Jojoba Oil,
Nivea Rose & Argan Oil.
Each of the lotions includes one oil – mentioned in the name – and many other, less natural ingredients that are typical to such formulas. I like the product but I'd love it to offer more natural composition and be free from e.g. alcohols.
MY OPINION
What do I think about oils in Nivea lotions? I really love the idea. I adore oils but I hate that some of them leave an unpleasant greasiness after the application. In case of Nivea, there are no such problems – the lotions have a standard lightweight consistency and absorb really quickly.
What effects do oils in Nivea lotions deliver? Not much different from lotions offered by other brands. I'm a bit disappointed. I hoped the product would work as effectively as oils used solo. The lotions moisturise and leave a nice feeling of softness… that would be it.
Do I recommend? Yes, if you are searching for a typical lotion enriched with an oil.