Kevin Murphy will rebuild your hair! Repair Me collection
Kevin Murphy is a hairdresser and a hair stylist that comes from Australia. He achieved the fame by creating vegan and eco-friendly products for hair care and styling, which don't overburden the beautiful strands of models. It's obvious that during this many hours' photo shoots their hair wasn't only loaded with the styling cosmetics but also pulled out, backcombed, strained… basically, it's hard to be a model's hair. Thanks to Kevin's products the strands gain lightness, intensive protection and maximum of care, and they still look really good. This made Kevin Murphy's cosmetics recognized as the best and the prestigious ones; they gained the big time.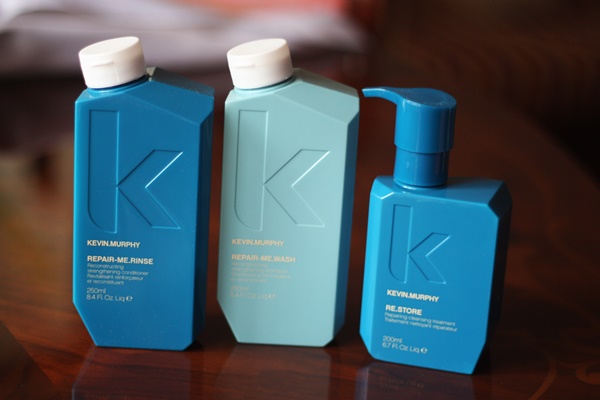 I also have my favourite two products that belong to Kevin's series and these are a shampoo and a conditioner. They come from a fairly new collection named Repair Me. Their task is to provide intensified regeneration and rebuilding of even the exceptionally distressed hair.
The series contains strong anti-oxidants and proteins obtained from papaya fruits. Also the cosmetics feature silk proteins and a natural bamboo leaf extract. Both the shampoo and the conditioner have beautiful, fresh, fruity smell which stays on hair long. After a few weeks my nose got used to the aroma of the products so it wasn't that noticeable any longer, but my friends still compliments both the appearance of my hair and the way it smells.
Apart from the outstanding action the cosmetics deliver to hair, they also take care of the scalp which stops being dehydrated, irritated and is no longer greasy. I've got this feeling that I lose less hair while combing. Naturally, the state of the scalp directly influences the condition of hair bulbs. Obviously, they become rooted better.
Kevin Murphy Repair Me is a collection that resembles the remaining products of this hair dresser's that are available on the market. The bottles have an angular and modernist shape. My boyfriend associates the packaging with a fuel canister 😉 Undoubtedly, they adds futuristic look to my bathroom.